Preach the word; be ready in season and out of season; reprove, rebuke, and exhort, with complete patience and teaching. (2 Timothy 4:2)
The other day it dawned on me that I was supposed to be somewhere else in that moment…that is, before Covid-19 changed all of our plans, and probably yours too.  
We can all probably think of some things that we would be doing differently this summer if life hadn't been in many ways turned upside down by this virus.  It comforts us to know that God knows what is happening, even when we don't!
This reminds me of a verse:
For my thoughts are not your thoughts, neither are your ways my ways, declares the LORD. (Isaiah 55:8)  
We were all excited about our summer trip to the United States to celebrate the 100 year anniversary of Baptist Mid-Missions as well as spend some time with Melodee's family.  After all, our kids are the only cousins her sisters Harmony's kids have! We also looked forward to being in our home church in Grand Rapids, catching up with our mentors and friends, and why not, enjoying some good American summer cookouts along the way!    
When the US consulate cancelled our passport renewal appointment after Easter we had a feeling that things were not going to go as planned.   As it turns out, at least for us, it very well may be that this summer had a greater impact than we had hoped for!  
Here are just five of those blessings:
1. Family We have been able to hold consistent family devotions, reading through the book of Proverbs during this time!  We have also had time for more meaningful conversations and making memories.
Eva even learned how to ride her bicycle!


2. Mission Family
Despite the disappointment of not being together to celebrate our 100 year anniversary, in July Baptist Mid-Missions welcomed Pastor Patrick Odle as the new president of Baptist Mid-Missions.  He has been highly involved for many years with the mission as pastor of First Baptist of Elyria, even speaking to missionaries in Europe (with an obligatory stop with us to visit Rome and Perugia!). Please pray for our previous president and mentor Vernon Rosenau as he prepares equips our new president for the task and transitions into a new phase of life with his wife Jan. Pray for his health too!  
3. Preaching
Much of my time sin we last spoke has been spent in sermon preparation.  What a blessing to be able to spend time with God every day  preparing to share God's Word with God's people!  
I learned so much preaching through the End Times, and now I am excited to preach verse by verse through Romans…the book written to locals!  (Perugia would have been one of the first places to receive this letter after the Roman Christians).

  I appreciate the trust and encouragement given to me by the Pastors and the church as a whole! Because of Covid-19 we are still not able to have children's ministry.  Many people still stay home for safety reasons, but thanks to Daniel and Danilo we have continued to stream the services, allowing everyone to follow, even from home, from vacation or even people from other parts of Italy without access to local churches.  
4. Leadership Development           
 Pastoral Internship  I was able to continue spending time with Danilo, our pastoral intern  He has been an incredible asset to the ministry, even during this time with so many restrictions.  His heart for God, willingness to grow and learn, and graphic design skills have been a great blessing to us all.
Theological Academy Many of our men participated in the preaching labs offered by the Italian Theological Academy.  What a blessing to see these men prepare and expose God's Word!  We look forward to see what God has for them in the future!              
Discipleship We continued meeting over ZOOM every two weeks throughout June with several men in our church. Though we had asked for a commitment through June, some men even asked to continue meeting once in a while to keep up! We have also met with other men individually to help wherever needed.  
5. New Deacons!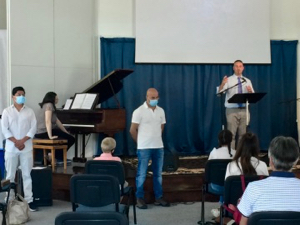 Lastly, thanks to the gifted organization of Daniel, after several months of nominations, meetings and voting, we were able to welcome two new deacons to the ministry of our church!  These men have seen exponential growth in character and service in the last few years and the vote of approval was unanimous!  We look forward to seeing how these men will "gain a good standing for themselves and also great confidence in the faith that is in Christ Jesus." (I Timothy 3:13)


There's so much more I could say! We have so much to be thankful for.  
We only with you could be here to see for yourself!  

God's work not only continues through hard times, it flourishes!
Thank you for your faithful prayers and giving!

Love, the Whitmans