It seems like yesterday that we were sharing the blessings of the end of 2020 (or maybe the blessing that 2020 ended!).  
It  was a challenging year, with one of our challenges presenting in being faithful in writing to keep you updated on the comings and goings of ministry.  Then when you did receive news, it probably felt like drinking out of a fire hydrant!   And here we are again…nearing the end of February and you are starting to ask yourself if we got lost or if for some reason all of our technology died at once.  
We are deeply sorry for failing you in this way.So here is my prayer and my promise to you: because what God is doing in Italy is so important, by the grace of God we will provide you every month with at least one e-mail update and will continue to post requests on Facebook and Twitter as they arise.  
Just as Luther would spend an extra hour in prayer on his busiest days, we must persevere in helping you pray for us in our busiest seasons!  
To celebrate Valentine's month (belatedly as well), rather than overwhelm you with so much that your heart will explode, for the next seven weeks we will only share one request a week and will keep it short and sweet (after today, of course).

So here goes…
---
Today's keyword, as you can imagine from the subject, is: LOCKDOWN.  
I am sure some people felt underwhelmed with activity and joined new online clubs and started new hobbies during Covid-19. That has not been our case, because the Gospel is not locked down!  It is still moving at an incredible rate!  Paul said: The Gospel is not chained! (2 Timothy 2:9)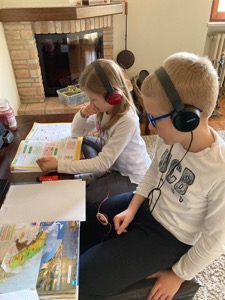 The Gospel is not locked down, but Umbria is.
Umbria has now been on almost total lockdown for three weeks.   The children have been doing school online for three weeks.     Unlike parents who homeschool (bless you), we don't get to decide the amount of homework. Somehow Italians think more homework is better to keep the kids out of mischief.  So we oversee school… all day, every day. Extra homework on the weekend as a bonus!  
So we need your prayers.  The Gospel must go forth! 
Lockdown or no lockdown!

Our church meetings are not locked down, but we do have limits on how many people can attend.
  Right before lockdown one of the parents at school asked me about our church.  I tried to explain to him where it was.  I told him: "If you want, I can give you a tour sometime!"  He looked puzzled…
"We would love to come to a church service with you"!  His answer took me by surprise!  I guess I need to expect more from God!  
Pray for this family to be able to come to church with us!! Pray for sanity and for the Gospel to go out.
 
We look forward to seeing you next week!