It's hard to believe…after dodging the bullet (only by the grace of God) for almost two years, Covid finally made it to the Whitman residence.
For roughly a week now, all four of us have come down with classic Covid-19.
I wish I could say we got the version with no symptoms, but alas, not so. The kids had serious symptoms for a few days, but for Melodee and me it is very much ongoing. We are thankful that we have been able to handle it at home. We have been quarantined since last Saturday, with most symptoms starting to appear the next day.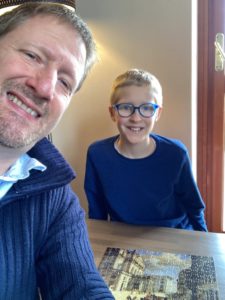 I was hoping that we could get some catch up work done during this time, but taking care of two hyperactive and cooped up children, feeding the family and trying to breathe between coughs has pretty much taken all of our energy so far.
On the 9th we will be tested to see if it is still in our system, otherwise we will have to wait to get out until the 14th of December.
Sadly, during this time, Giuseppe, one of our most trusted members, passed away suddenly from a heart attack. We weren't even able to attend the funeral!
Please pray for:
Complete and rapid healing.
Good relations with our neighbors, who are fearful of getting sick from us.
Good use of our time.
For the ministry to continue to flourish in our absence.
My mom, who will be heading to New York to keep my nephew Gioele, since my sister-in-law Francesca and her kids are also in quarantine, and Jeremy needs to work!
Thank you for your prayers!